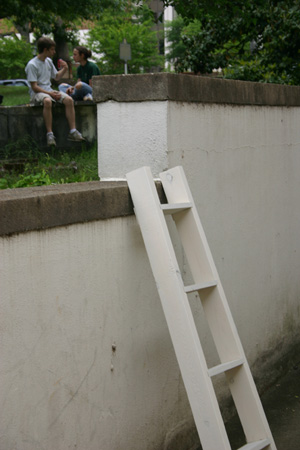 As an educator, I have had the privilege of teaching at several institutions including an elite private art school (Maryland Institute College of Art), a four-year research university (University of Tennessee, Knoxville), and two community colleges including Chattanooga State Community College (CSCC) and now Pellissippi State Community College (PSCC). I knew after my first semester I belonged at a community college because my teaching method thrives in classrooms with students from a wide variety of backgrounds with a diverse body of experiences. Whether students are veterans, adult learners, first-semester freshman, or pre-college, I empower them to be active observers and contributors to the visual culture around them and develop a deeper understanding of the aesthetic choices that impact their lives. During one-on-one conversations, individual critiques, and office hour meetings, I encourage my students to cherish their time as art students where they can experiment and make mistakes as they learn how think critically and practice creativity. By observing the unique culture and dynamics within each class, I adapt as an educator to foster self-discovery and individual responses to assignments through a variety of different approaches.
As the basis for Foundation studio courses, I encourage the exploration of new materials and emphasize the balance between form, content, and context. Students simultaneously develop the fabrication and design skills essential to creating traditional object-centered forms while considering new mediums (such as installation, performance, and digital formats) to connect the audience with the work. Formal assignments (Method Projects) provide exposure to the tools and instill confidence in new skills, while broader conceptual and contextual assignments (Studio Projects) strengthen the student's artistic voice. Above all in any situation, my priority is always safety, and through repetitious reminders, visible signs, and accessible handouts, I impart the importance of proper handling of all materials and machinery. Instead of separating students, I encourage them to help one another master new tools and skills. By effectively explaining processes, sharing new techniques, and describing effective outcomes, students form a collaborative, community-based learning environment.
One of the challenges of forming a strong group dynamic is conducting productive critiques. Often, the more congenial the class, the harder it can be to draw substantive responses from students. Although students immediately recognize my role as instructor and moderator, I remind each class that they are there for one another and responsible to one another. To truly support one another in a learning environment, I teach students how to critically and constructively observe, consider, and assess art. Critique is a part of a practice we all share and from which we all benefit. For all studio courses, I utilize a variety of formats from traditional group critiques, small group assessments, written responses, and even online forum discussions. Throughout the term, I also require verbal and written self-evaluations. By encouraging students to be honest about a project's strengths and weaknesses, a student can then imagine how a piece might be remade, reworked, or represented, which is a critical part of maintaining a dynamic studio practice in the future. Finally, I assess each student's work through written responses and assessment rubrics.
The presentations and lectures I develop are dynamic, consider an art-historical perspective, and visually illustrate key ideas about art, design, and visual culture using examples from a multitude of sources- from paintings to interior design layouts, dental hygiene color charts to newspaper advertisements. To expand on these ideas, I bring in guest lecturers from other disciplines to connect students with art in unexpected ways; English professors discuss graphic novels, psychologists argue color theory, geologists connect ancient stones with statues, and engineers debate aliens vs. the pyramids. Through inspiration boards, reflective journaling, and idea-generating games, I teach students how to synthesize all of these influences into an active artistic practice that draws inspiration from the world around them, not just from within them.
These conversations continue into my academic courses such as Survey Art History and Art Appreciation. Although memorization and fact retention is necessary to be successful in these courses, I enthusiastically present lectures and conduct discussions that emphasize a holistic appreciation and understanding of art and art history. I compel students to consider works of art beyond the formal attributes and examine the cultural, historical, and individual implications of the work. At times, I ask students to sit in silence, without cell phones or distractions, and truly spend time looking at the work before making any assessments. After all, students may not remember specific dates later in life; however, I train students how to look at art. Students move beyond the "like" button and find a deeper appreciation for art.
My own artistic practice shifts materials constantly. The more mediums, materials, and methods I can learn, the more articulate my own work becomes. In turn, I strive to inspire students to keep finding new ways to practice 'making good art.' Ultimately, I adore teaching a wide range of courses at a community college because I quickly become more than a student's professor; I become a student's advisor, Art Club sponsor, and greatest advocate for a student's success.
Please review the Teaching Portfolio and Student Work that are posted in my gallery.
Teaching Philosophy PDFSample Foundation Course SyllabusSample Upper Level Course Syllabus